East Meadow Shopping Center
_______________________________________________
Is there such thing as healthy barbecue foods? The answer is YES!!!! Take a look at Zacharys & Savannah's tasty, nutritious barbecue ideas. These will keep your taste buds tingling in anticipation!
Tofu is a popular vegetarian substitute for meat, which is very easy to cube and ideal for kebabs! Alternatively look out for cubed chicken breast, prawns or lean meats. The beauty with kebabs is that your imagination is your limit - most vegetables, and some fruits too, are delicious combined with tofu, poultry, seafood or meat.
Try cherry tomatoes, mushrooms, onion, peppers, courgette or aubergine (cut into ¼ inch cubes), pineapple chunks, apple slices... whatever takes your fancy! Simply put your chosen combination onto skewers, brush with a little olive oil, or find a reduced calorie marinade, and grill over the BBQ until the meat is cooked and tender and the vegetables are roasted and charred around the edges.
Note: If using wooden skewers don't forget to pre-soak them for 30 minutes to avoid the ends burning whilst cooking!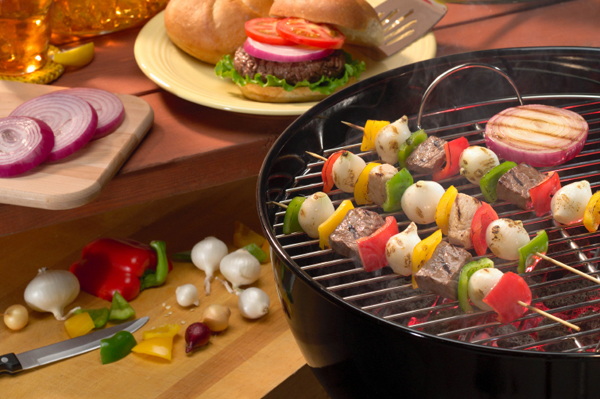 Vegetable Kebabs
"Try vegetable kebabs, peppers, mushrooms, courgette, aubergine, any of your favourite vegetables, skewer them, wipe with teriyaki sauce or something else you like, and stick them on the BBQ until ready." MELLY
Marinated Chicken
"4 chicken breasts, 2 tablespoons clear honey, 1.5 tablespoons soy sauce, juice & zest of one lime, 2 cloves of garlic. Mix up all marinade ingredients, stir in chicken, leave overnight then BBQ! Can either leave chicken whole or chop into chunks and cook on skewers. Enjoy!" BETHCURRIE
"I did monkfish kebabs. Monkfish is very meaty so doesn't flake and fall apart on the barbecue like other fish. It was very simple: monkfish cubes interspersed with chunks of ripe mango, with a little oil drizzled over plus the juice of one lime. Delicious!"
Salmon makes a great alternative to meat. Place a whole fillet onto a sheet of foil large enough to make a parcel. Slice half a lemon and layer over the top of the salmon, squeeze the other half over the fish, season and wrap the foil to make a make a generous parcel and refrigerate overnight (to allow the flavours to fuse). Cook on the barbecue for about 10 minutes - depending on thickness of fillet. This is delicious served with natural, low fat yogurt, salad and crusty bread.
Take a large square of tin foil, spray with a light cooking spray, add some sliced mushrooms, a clove of crushed garlic, freshly milled salt and pepper and wrap up in a parcel. Cook the the parcel on the BBQ for about 15-20 minutes. Serve with French bread lightly toasted on the BBQ.
Sweetcorn cooked on the BBQ is delicious and acquires a taste unobtainable with any other form of cooking. Pre-boil it until just tender, to keep it juicy and speed up cooking time on the "Barbie". Then, place it directly on the grill and turn until charred on the outside. Resist the temptation for lashings of butter - you won't need it!
The adventurous amongst you can try the traditional Mexican option which involves rubbing the hot, cooked corn in chili powder. Warning: HOT!
Asparagus is said to be a delicacy and barbecued asparagus is no exception! Simply take a bunch, trim the bottoms, toss in a tbsp of olive oil and season with freshly milled salt and pepper. Pop on the grill for 2-3 minutes or until to desired tenderness - this one will wow your guests!
"I've never been a big fan of aubergine but I recently had this at a BBQ and they were fantastic. Slice an aubergine length ways into just under 1/2 cm slices. Marinate them for about an hour in a small amount of olive oil (1 tsp), some nice vinegar (eg. red wine, balsamic), lemon juice and some chopped herbs. Place them on the BBQ and cook well. I like them quite charred as they go lovely and crispy on the outside and gooey in the middle. If you're having an okay calorie day top with a small amount of crumbled feta cheese."
Jacket potatoes are one of the easiest things to cook on the BBQ. Simply wrap them in tin foil and place directly on the coals under the shelf and leave them for approx an hour, depending on size, whilst you cook the rest. Don't worry if you have to wait for the rest - the potatoes will only improve with time!
"I do something nice (and terribly traditional) with potatoes - boil new potatoes until just tender, then drain, toss with a tiny touch of olive oil (1tbsp for four portions), garlic, salt and pepper (rosemary if available) - then the lot go a piece of heavy-duty foil that's been sprayed with "pan-coating" - fold the top tightly, then the sides up and on the grill - turn it every once in a while and you get nice roasties!"
One of the best things about a barbecue is the variety of foods on offer - so don't limit this simply to what you cook on the grill. A bit of pre-planning will ensure a healthy choice of accompaniments, steer clear of supermarket coleslaw and potato salad (these are laced with fat) – but if you must, check out our

low fat coleslaw

and

low fat potato salad

taste tests and see which are best for calories, fat and taste.
Try a fresh mixed salad with a reduced fat/calorie dressing, some freshly boiled rice (toss in some pineapple, mushrooms... use that imagination!) and some fresh bread - there's some delightful wholemeal and granary varieties available.
"For a side salad try cous cous with roasted veg, garlic & herbs - can be cooked in advance and kept for a day or two" BETHCURRIE
Make up a bowl of fresh fruit salad and serve with low fat yogurt. Alternatively whilst the charcoal is dying down, pop some bananas (in their skins) wrapped in tin foil on the shelf and leave for about 10 minutes. When you unwrap them you'll have a delicious gooey banana dessert!
"Peaches and nectarines sliced are very good too - serve with some fat free yogurt"